Dead Darlings, Anonymous Art Auction, Heimathafen Neukölln, 9 April 2022
"applause" was sold.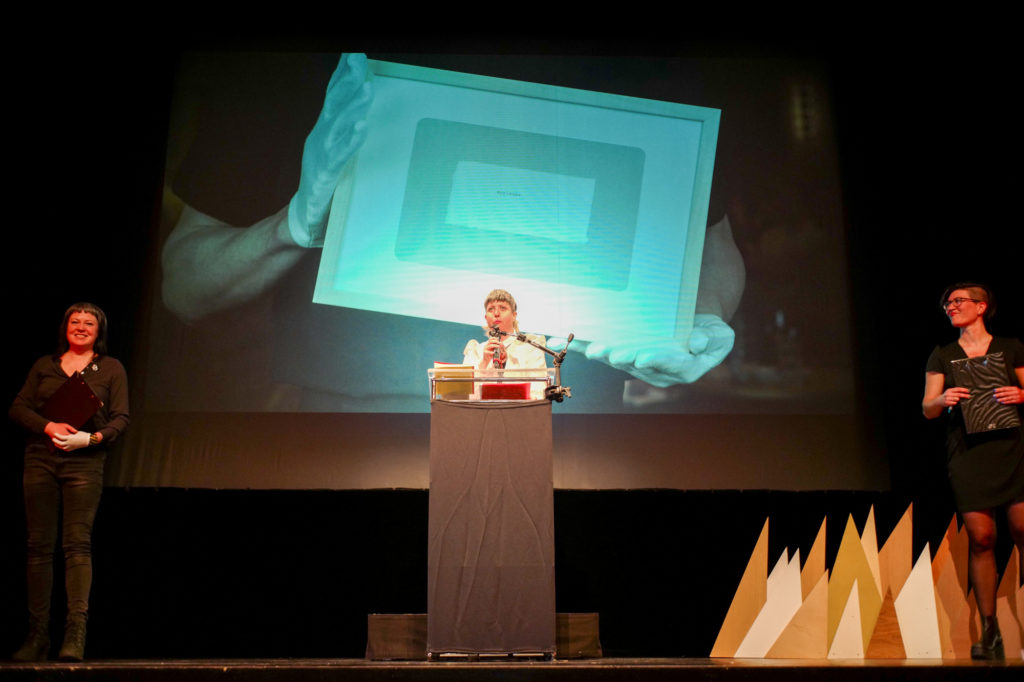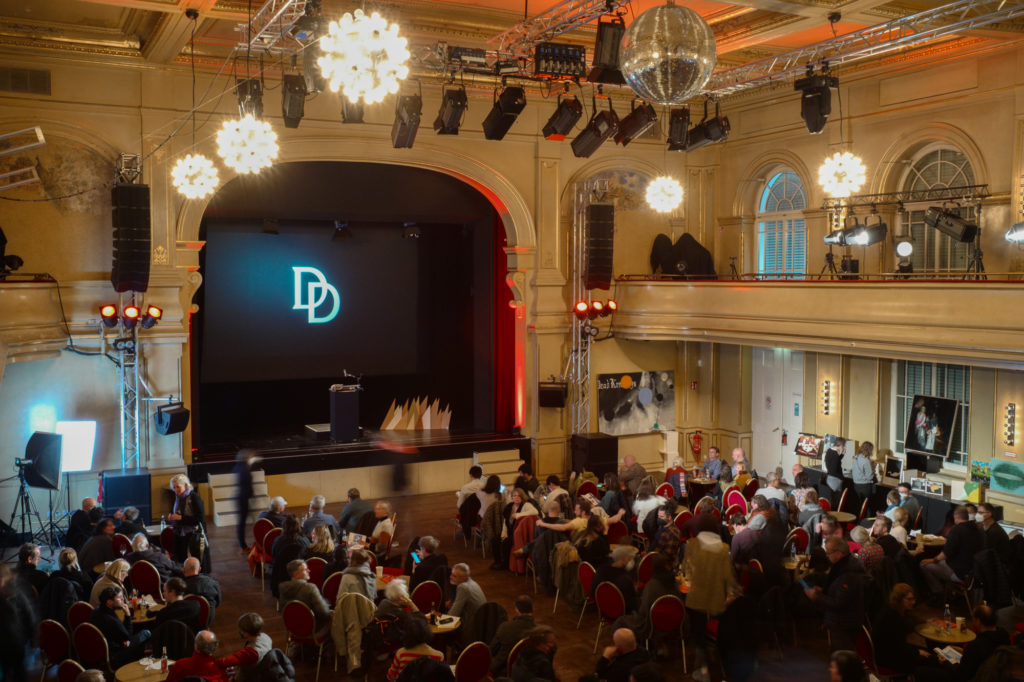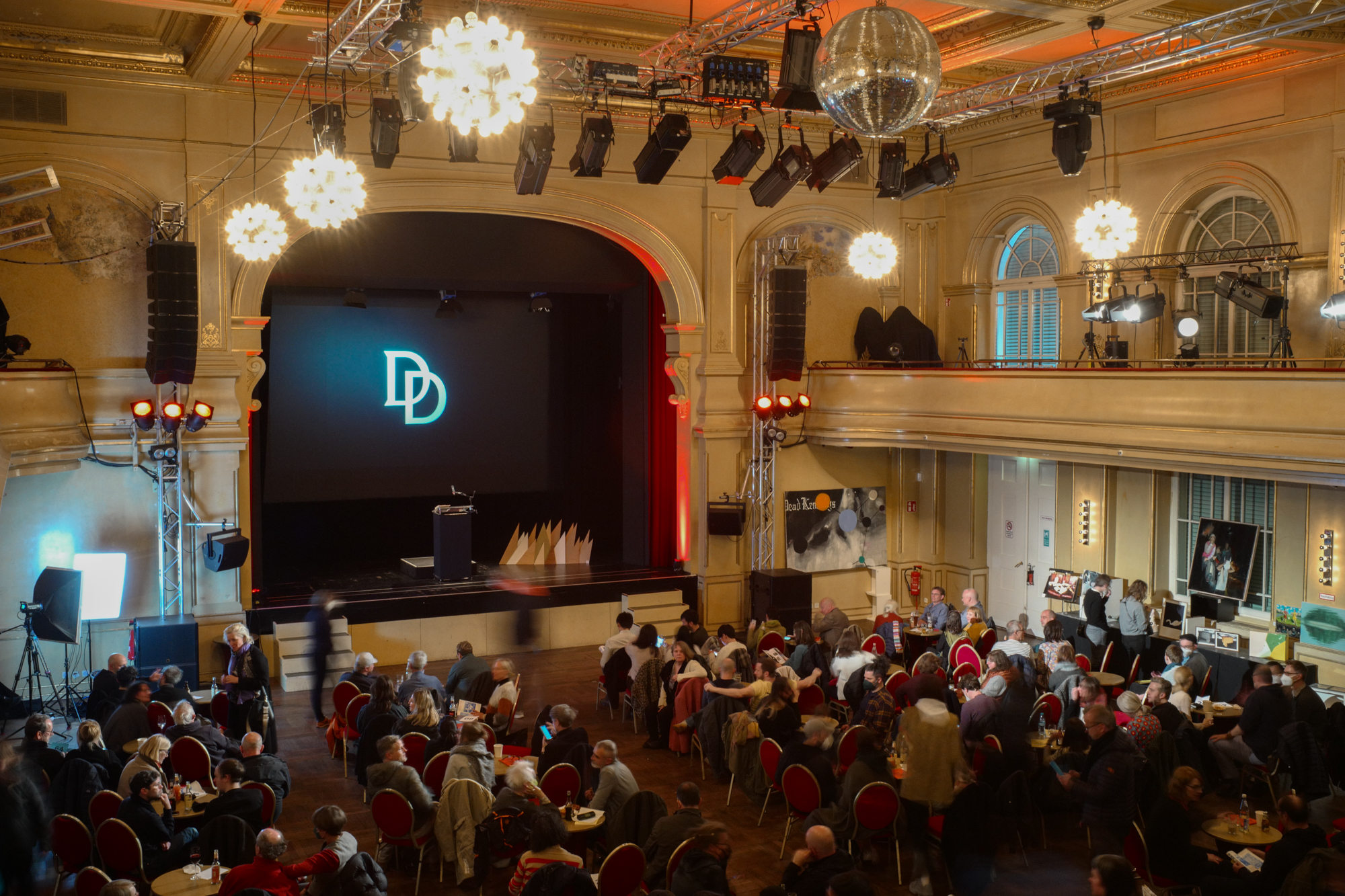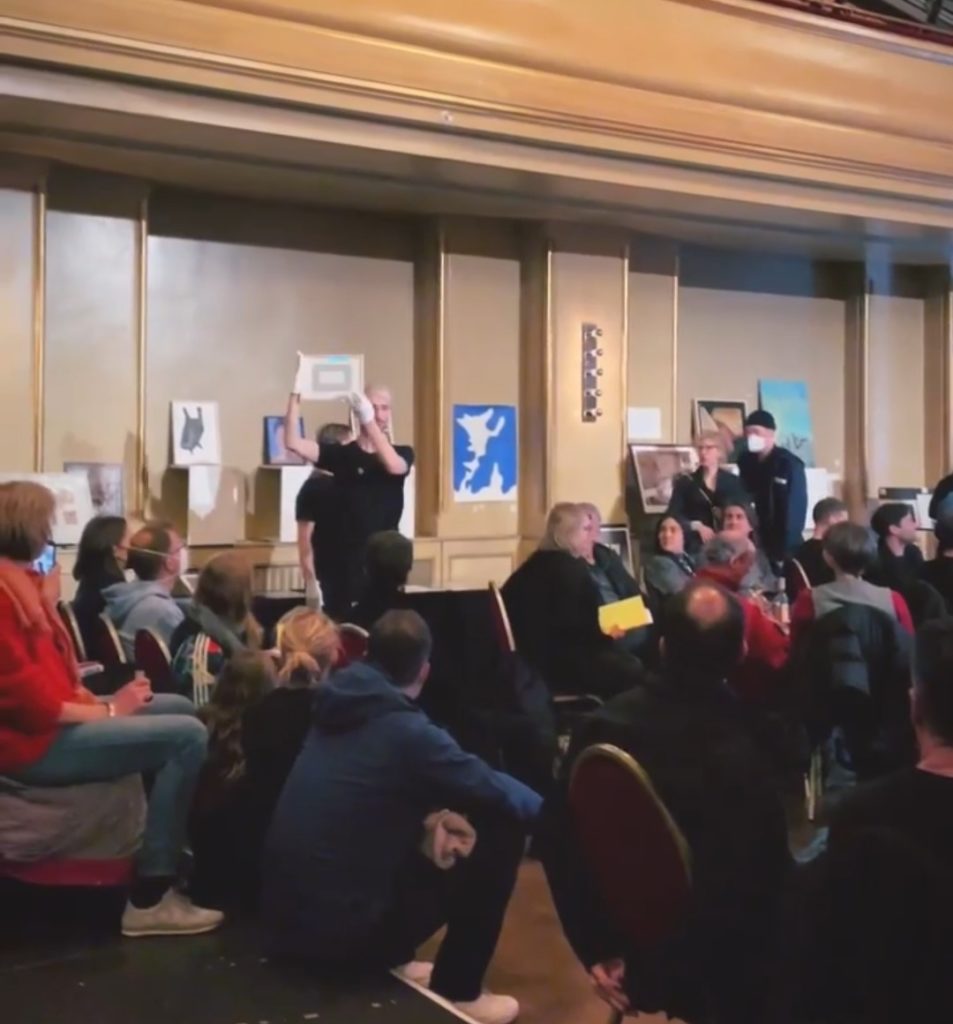 Galerie Asterisk* , 2020 (Solo)
galerie asterisk * devotes a solo – exhibition to artists in the year of birth of their child. Retrospectively, all births are archived as an exhibition. galerie asterisk * thus acts politically against exclusive practice in the cultural sector. The aim is to network through the CV´s: visible and recognizable.
https://galerieasterisk.de/archives/artistname/victoria-hohmann#year2020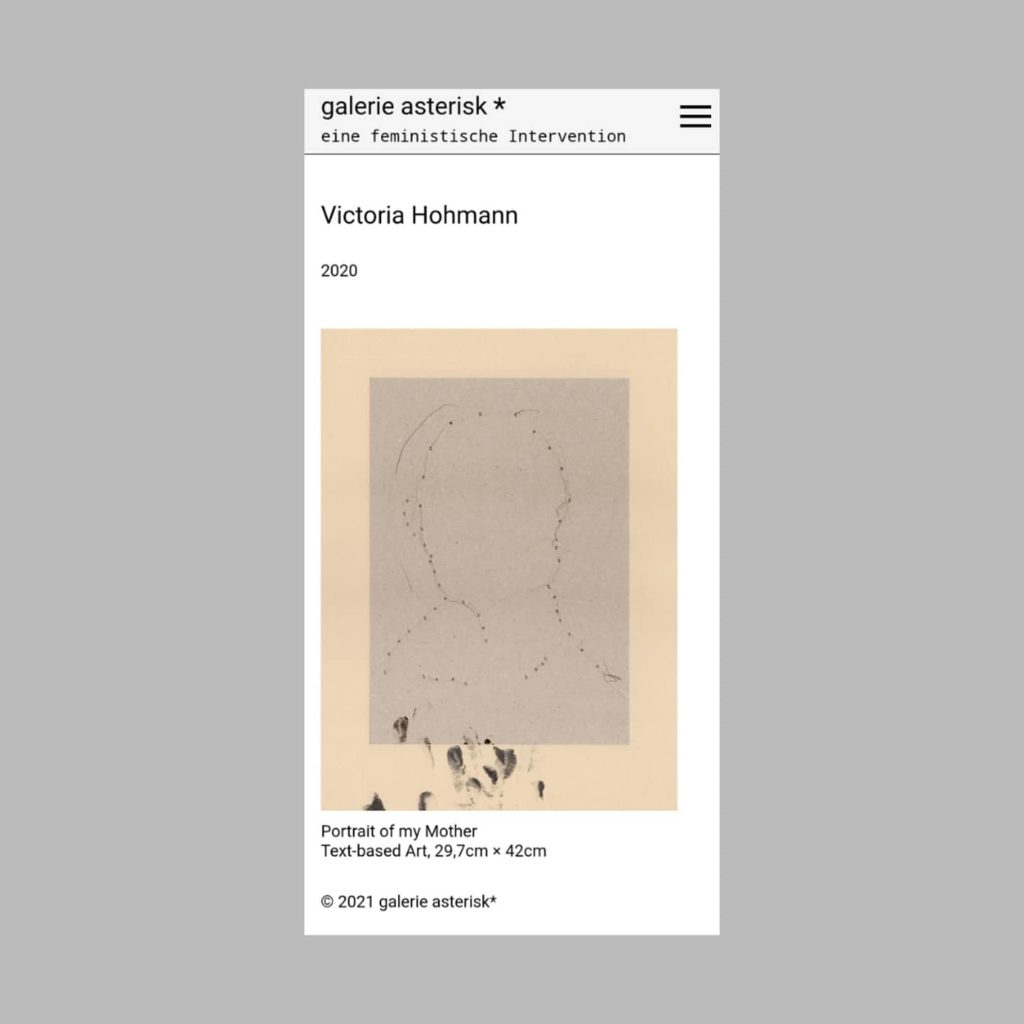 Galerie GG3:Kunst der Nachhaltigkeit, Berlin, 2020
(Group Show)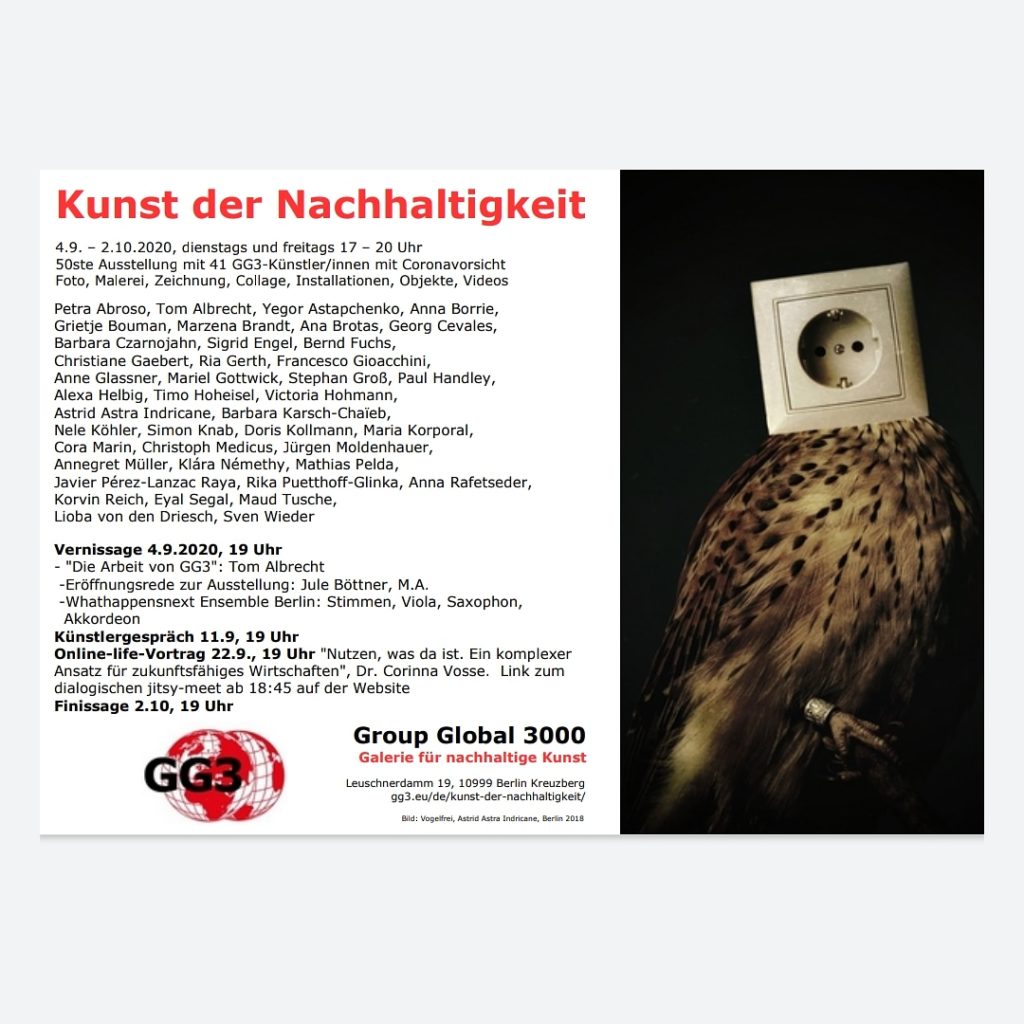 CONTEXT III, Foundry Art Centre, St. Charles, MO 63301, USA (Group Show)
MAY 8 – JUNE 19
OPENS: Friday, May 8th at 6:00 pm
Juror Levi Sherman will share his thoughts on the exhibition and announced the award winners through video.
THE EXHIBITION
Last held August 2017, the Foundry Art Centre presents an all media exhibition focusing on the written word's role in the visual arts. Contemporary society is saturated with media and this exhibition will showcase how intertwined the literary and visual arts are. Submitting artists can utilize the written word literally, symbolically, texturally, and/or referentially.
http://www.foundryartcentre.org/context-iii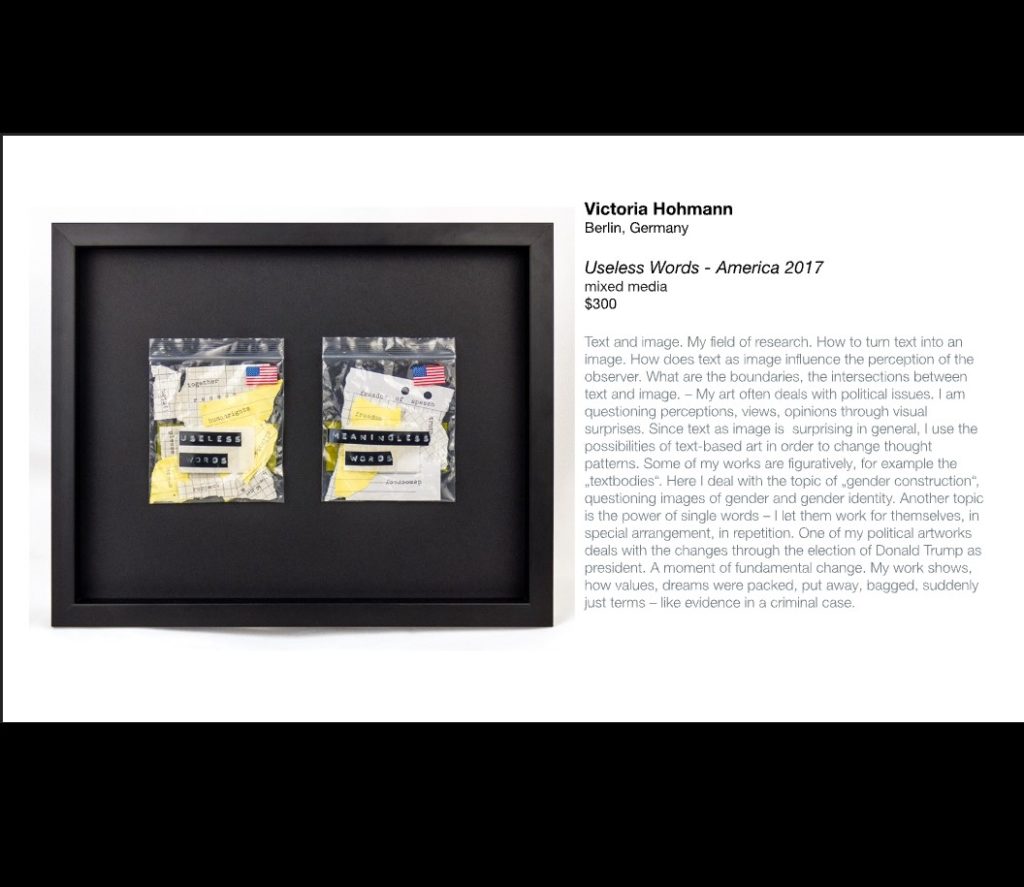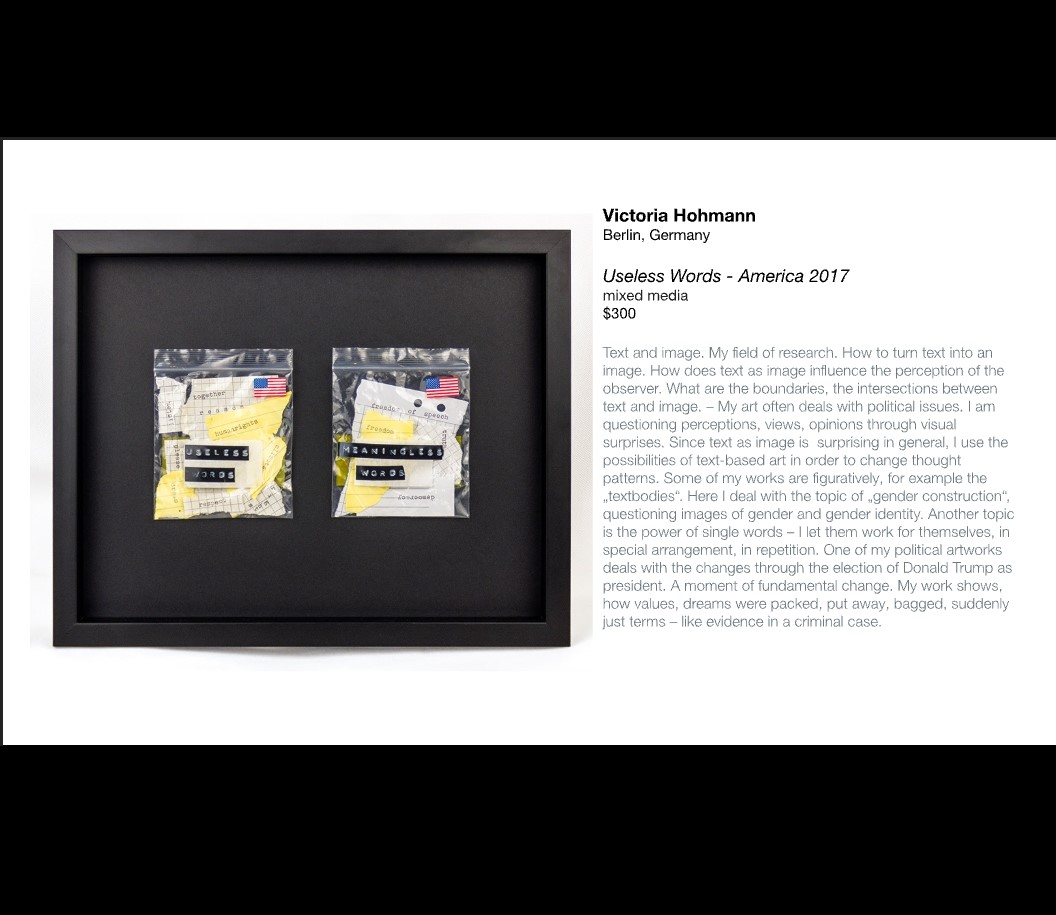 Galerie GG3, Berlin. Home: Think globally, act locally
Exhibition 20.3. – 8.5.2020, Tuesdays and Fridays 17-20
objects, installations, photo, video, audio
Programme: reading, workshop, singsong
Due to acute corona danger, the exhibition will take place online.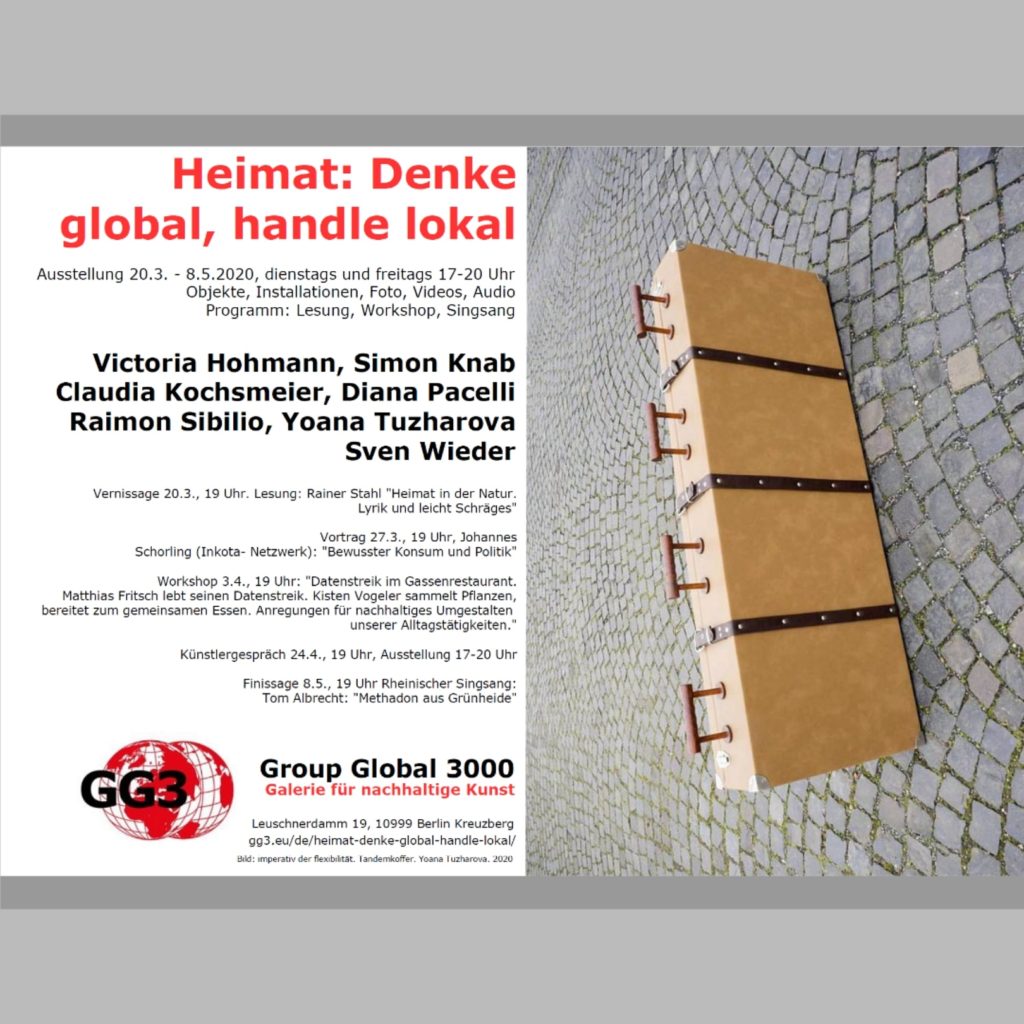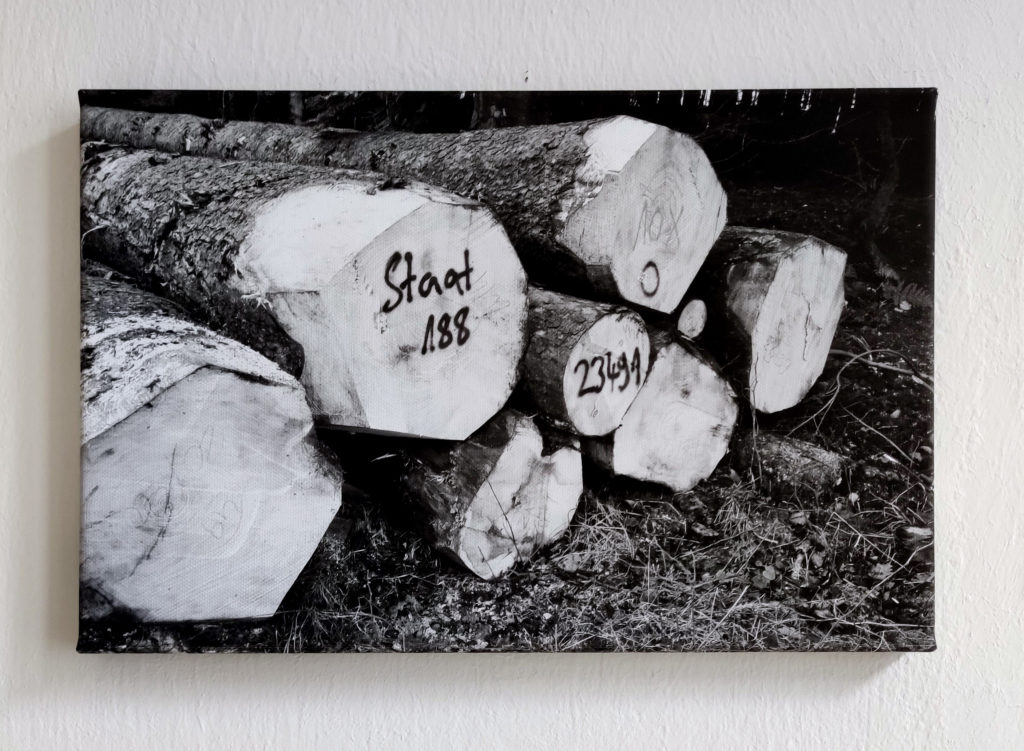 ART PRIZE MÜNZENBERG FORUM BERLIN, Sep. 2019 (Group Show)
The motto of the fourth art competition of the Willi Münzenberg Forum Berlin is: "Up ahead they's a thousan' lives we might live, but when it comes it'll on'y be one." (John Steinbeck, Grapes of Wrath)
I am very happy about the second place for my collage "Rosige Aussichten" (Rosy Prospects). Vernissage and Award Ceremony take place on October 1. There are many great political artworks to discover.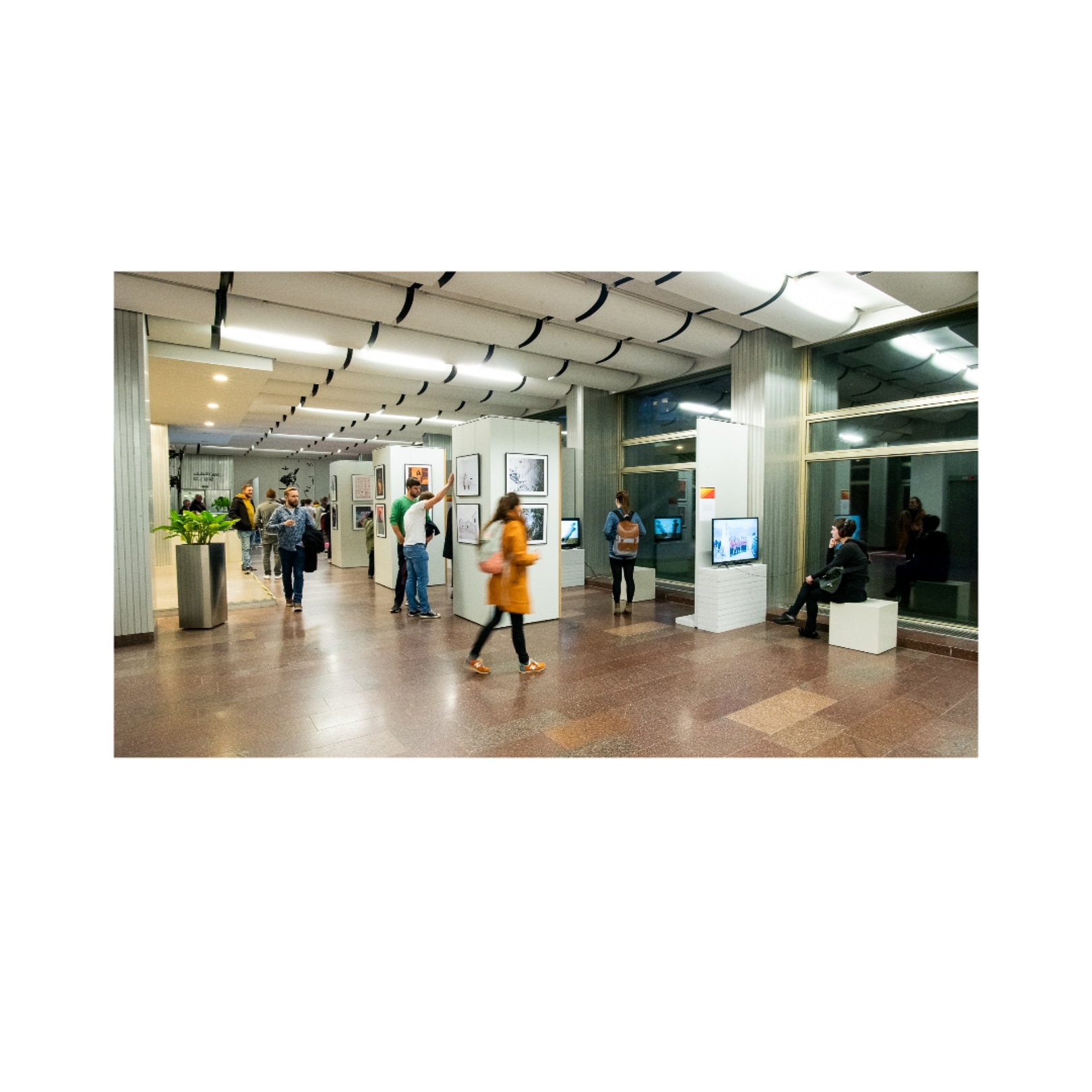 Exhibition & Reading @ Art Space im_raum, Berlin
On Saturday, June 22, photographer Anke Jungbluth, artist Lisa Büscher (sculpture) and I will exhibit together again. This time in Anke's Artspace im_raum in Berlin-Kreuzberg. There will be a reading, too. Author & publisher Jürgen Volk (Verlag duotincta) will present his novel "Unbedingt" about Van Gogh and Gauguin in the yellow house (published 2017 by Bernstein as paperback and by Edel & Electric as e-book), Daniel Breuer his novel "nathanroad.rec" (published 2017 by duotincta) and I will present a text of the manuscript of my new collection of stories "Vom Miteinander" (soon to be published by VHV-Verlag).
Vernissage: 6 pm, readings: from 8 pm.
Address: im_raum, Mittenwalder Straße 46a, 10961 Berlin, Souterrain. Free admission.
By the way: My studio is located in the same building, so if you want to peep inside, you are very welcome to do so.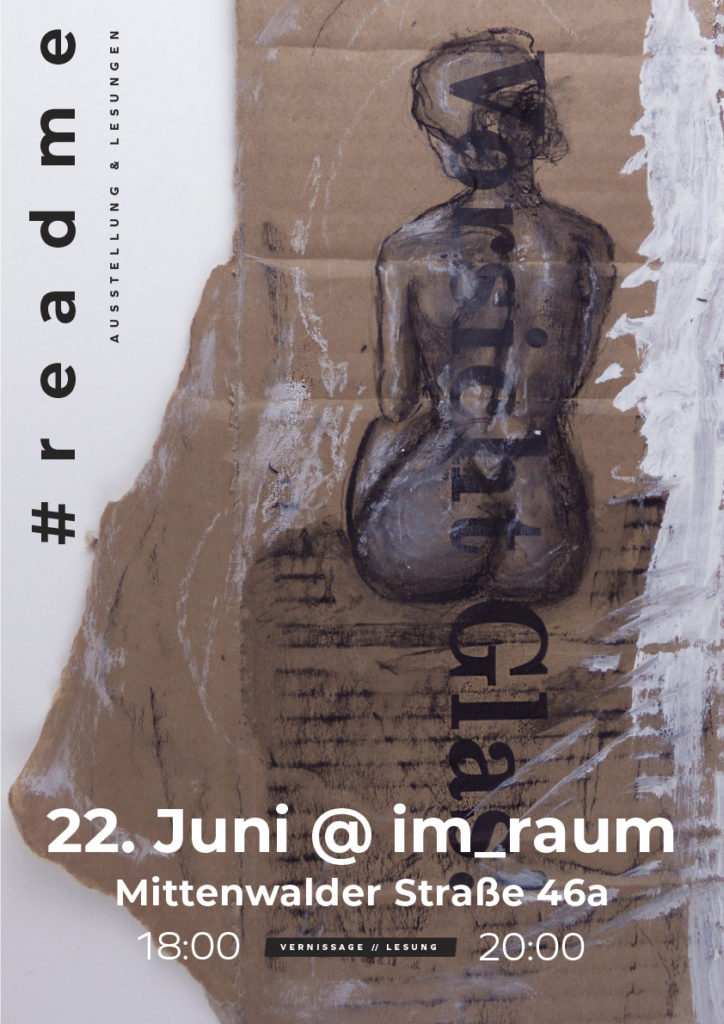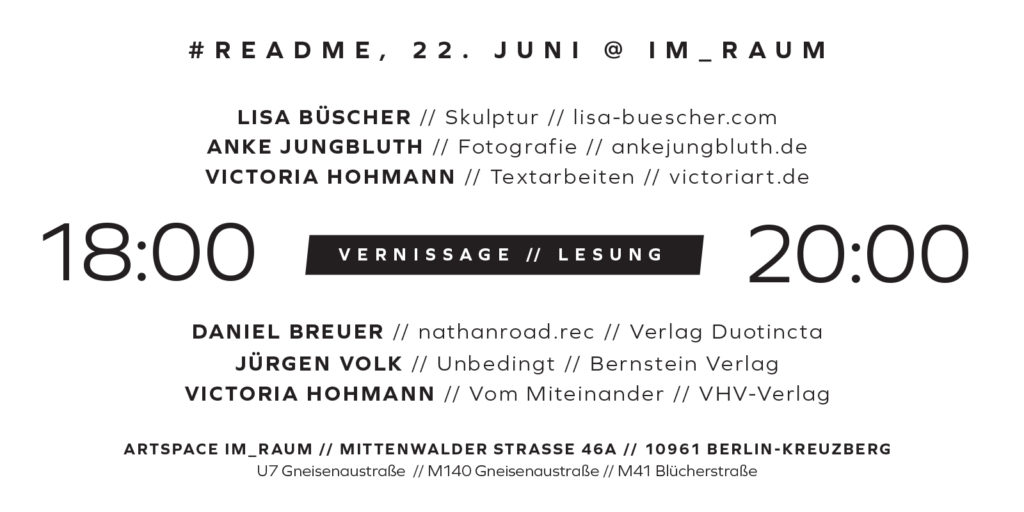 Art Kreuzberg, 2018, open Studio
At the beginning of September "Art Kreuzberg" invites you to an art tour in the Bergmannkiez and Graefekiez . My studio is open to the public on both days.
Saturday, September 8th at 3 pm there will be a studio tour/artist talk.
Sunday, September 9th at 3 pm I will read from my new collection of stories "Vom Dazwischen".
If you want to stop by sooner or later, you will find more works of mine at Artspace "im_raum" of Anke Jungbluth, same house, basement.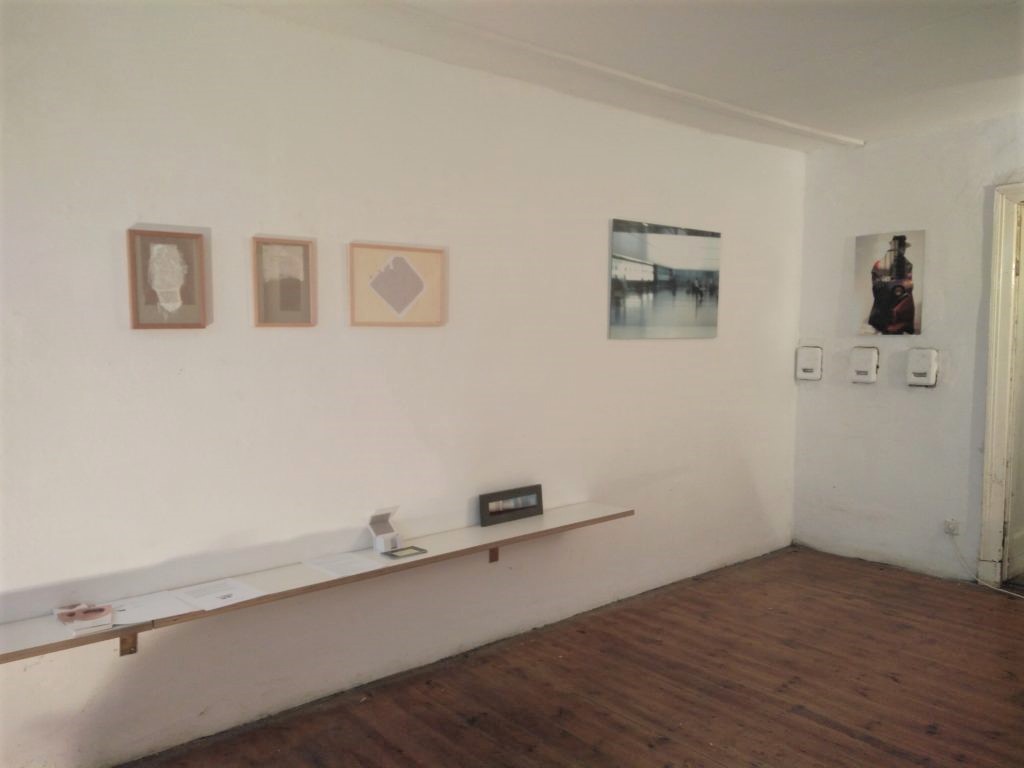 Moments of Change, Kunstverein L102 Art, Berlin, 2018
Group Show @Kunstverein L102 Art /Art Prize. my work: "Useless Words – America 2017" (Text-based Art).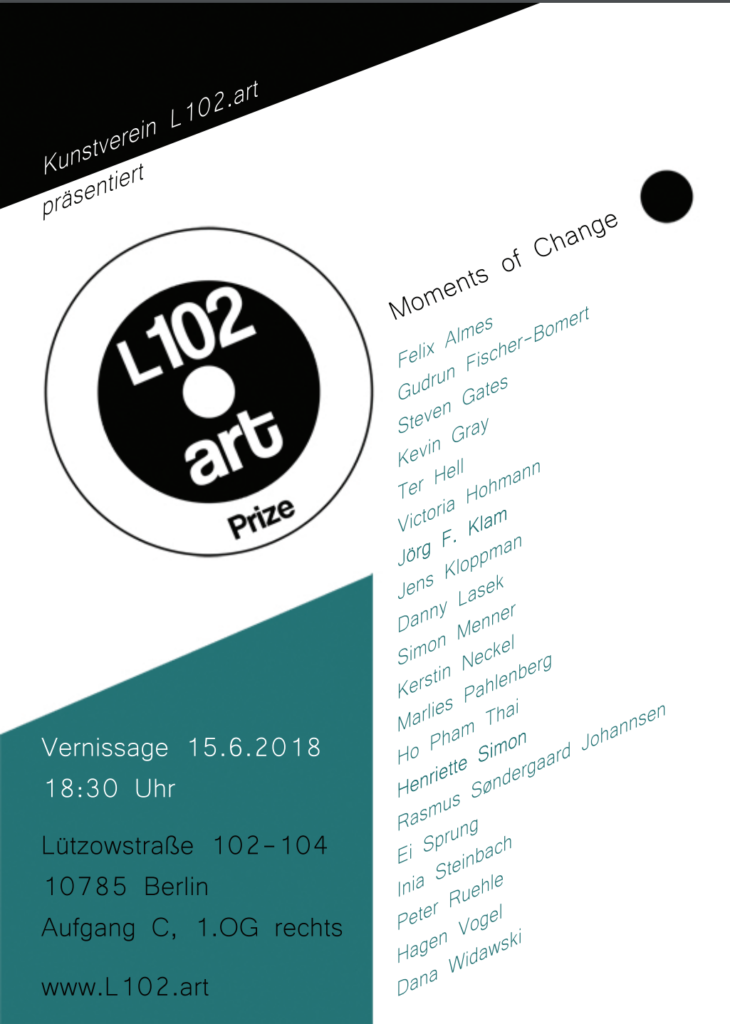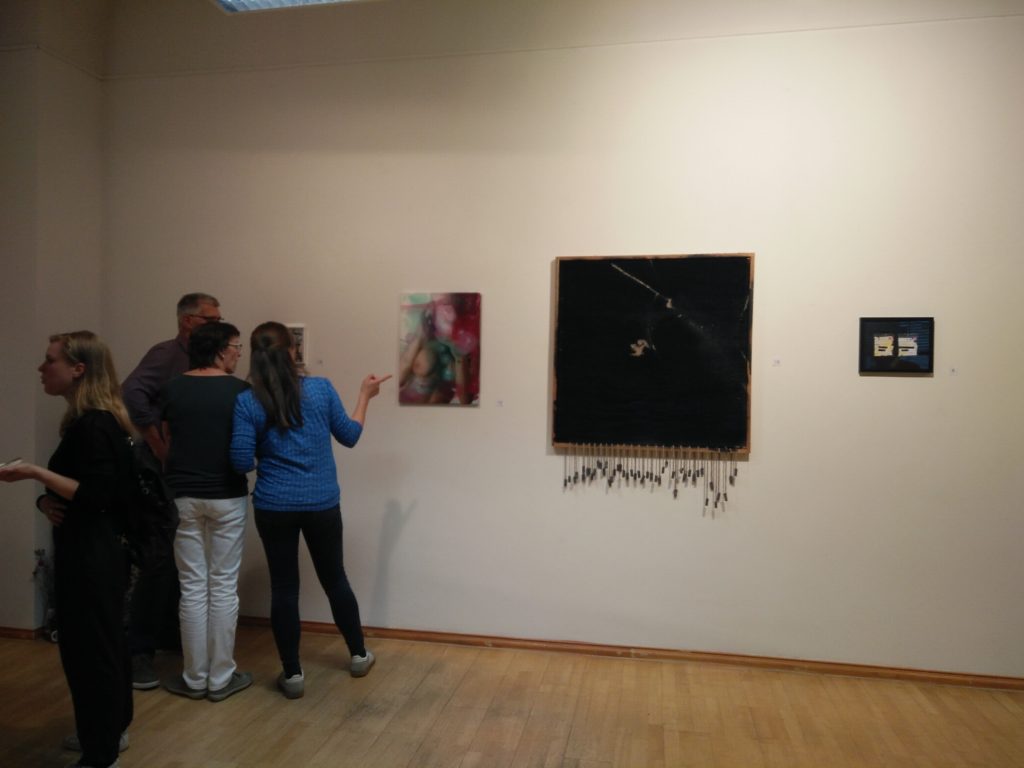 SHIFTING IDENTITIES, , Project Space UNTER URBAN, 2018, Berlin
Group Show Lisa Büscher (Sculpture) Anke Jungbluth (Photography) & Victoria Hohmann (text-based Art) @ Projectspace "unter Urban", Urbanstr. 176, Berlin.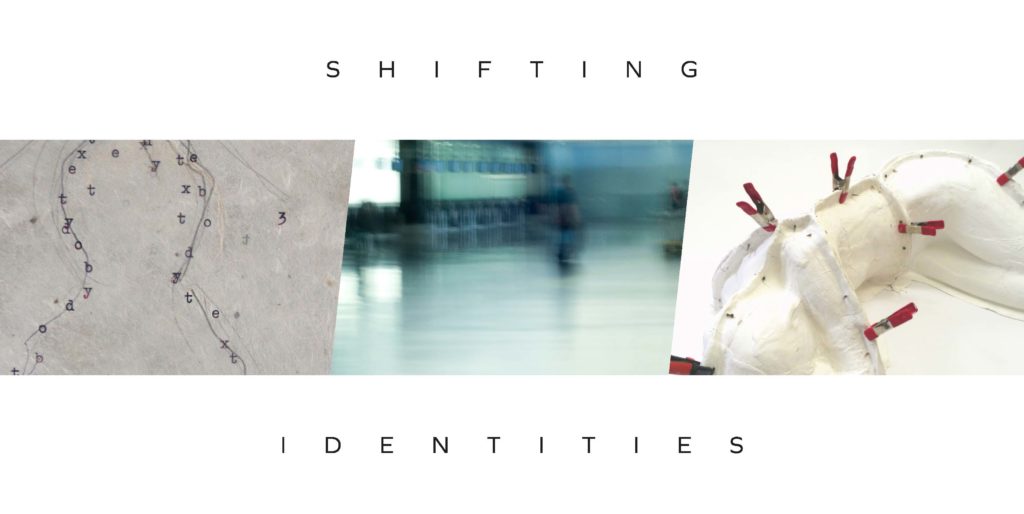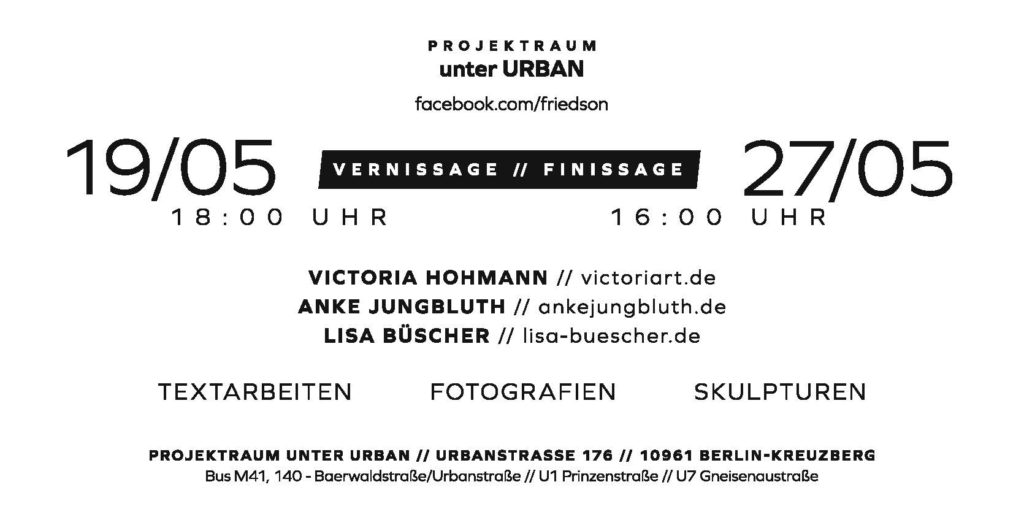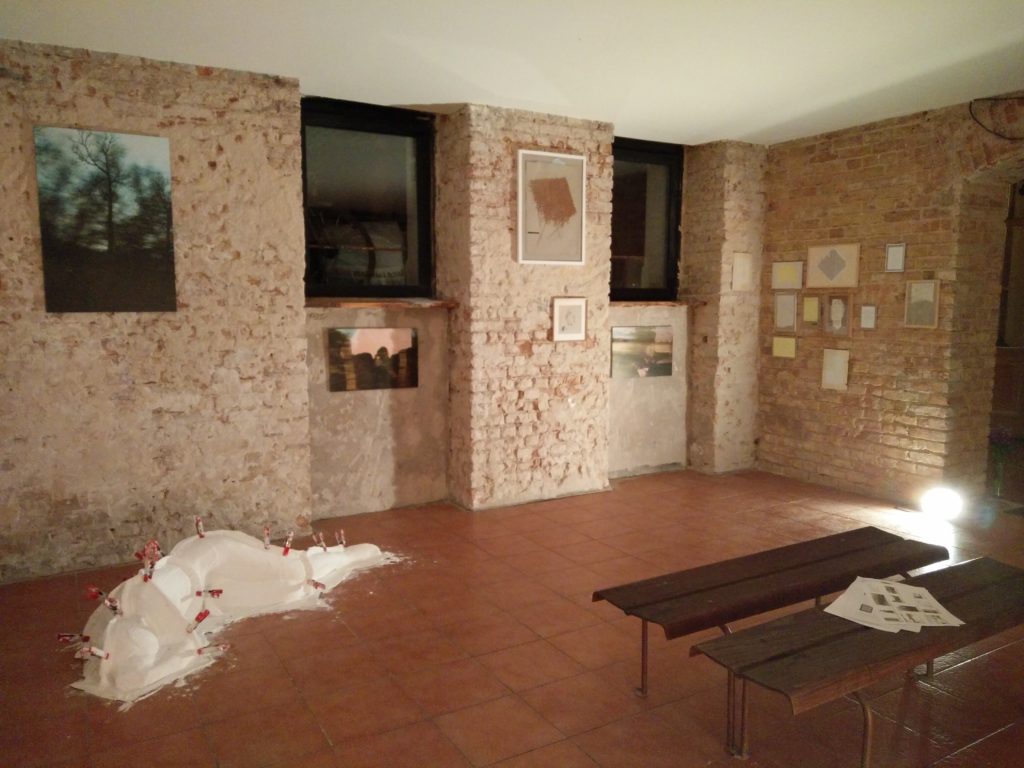 ART FAIR BERLINER LISTE, September 2017, Berlin, Postbahnhof
Group Show. artists: Heike Franziska Bartsch, Ana Bathe, Sandra Becker, Christa Biedermann, Christine Sophie Bloess, Lisa Büscher, Peter Ehrentraut, Dominik Frassmann, Victoria Hohmann, Ivano Pelecchia, Lee Young-sik, Yelizavyeta, Sabine Kasan, Mikos Meininger, Gerard Waskievitz, Marion Luise Buchmann. my works: "Lasterheft" & "dein reich komme" (Text-based Art).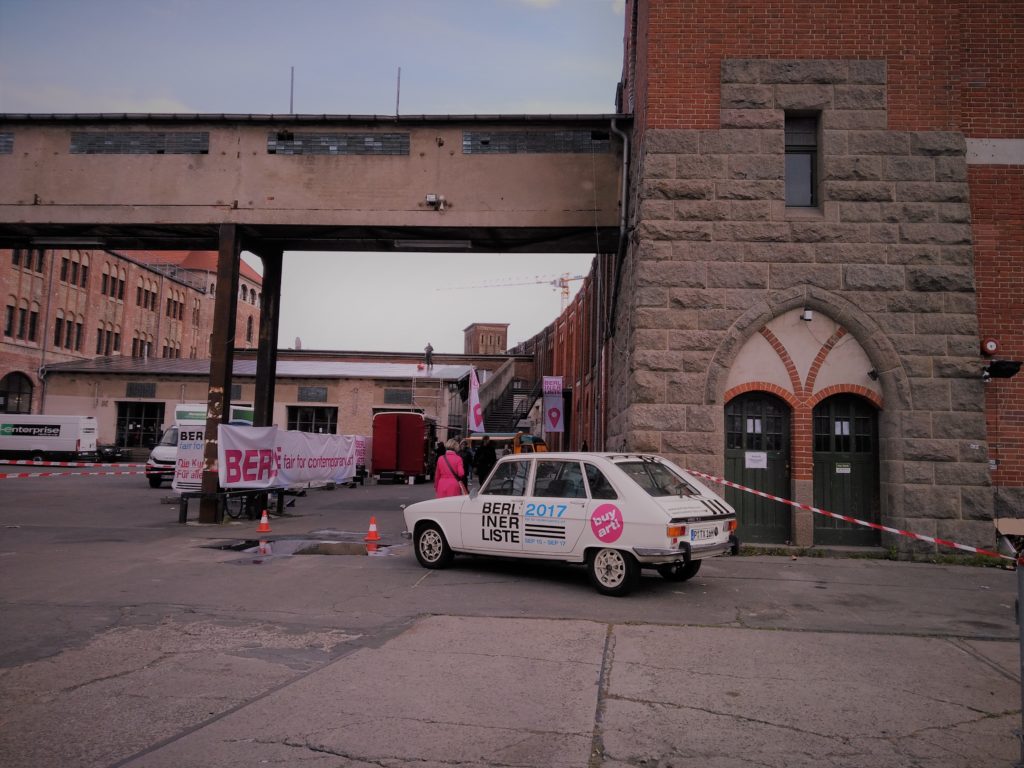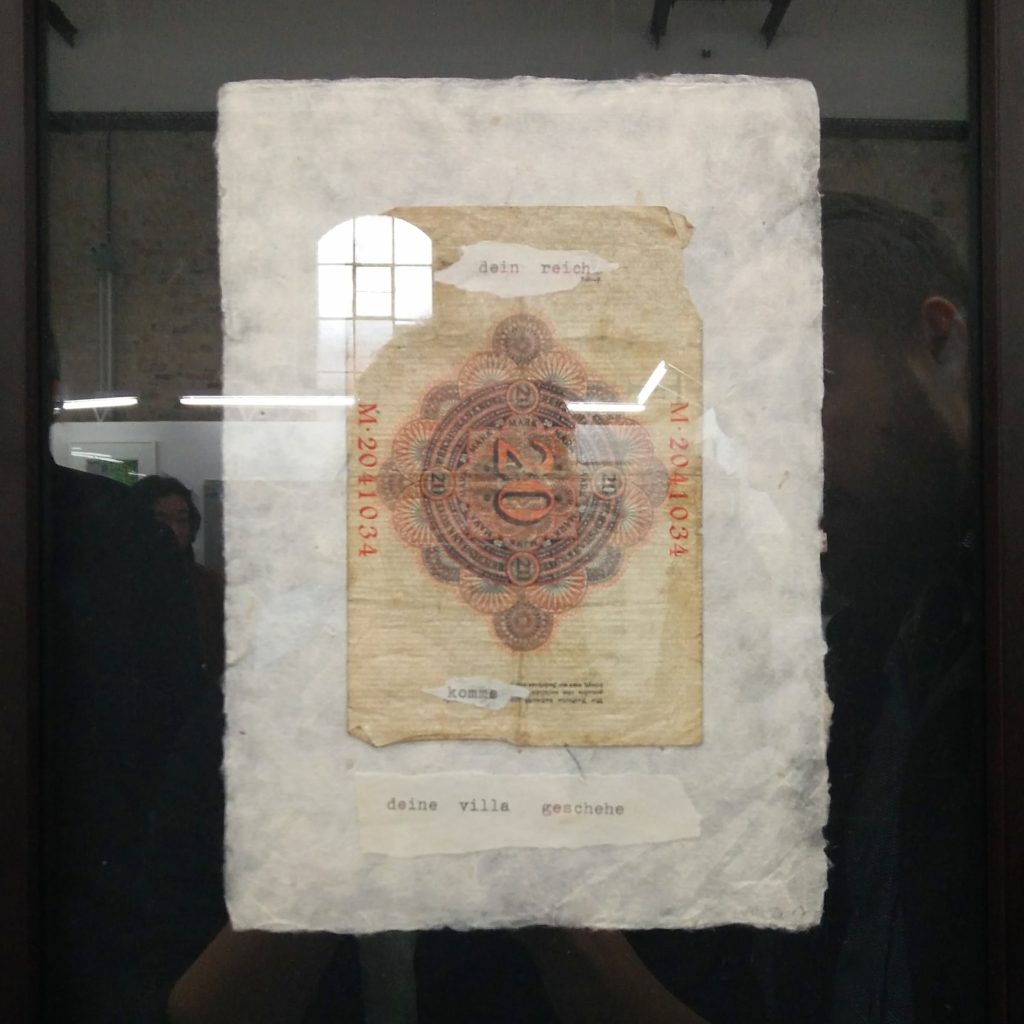 CURRICULA VITAE, LITE-HAUS GALERIE + PROJECT SPACE, Berlin, Oct. 2016 (Group Show)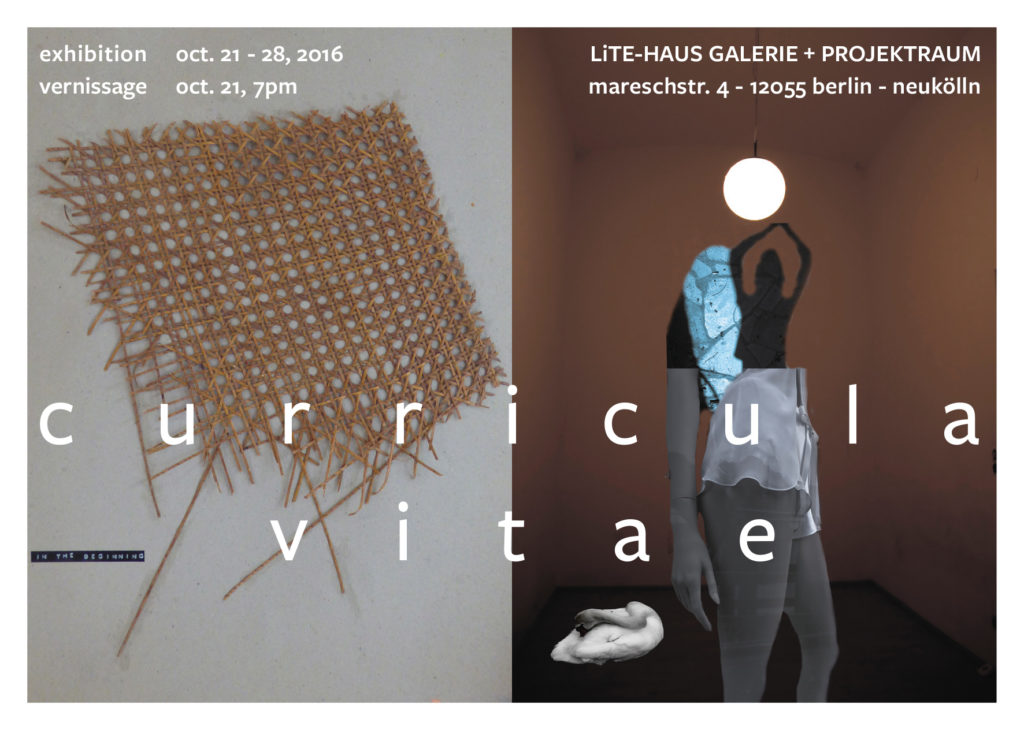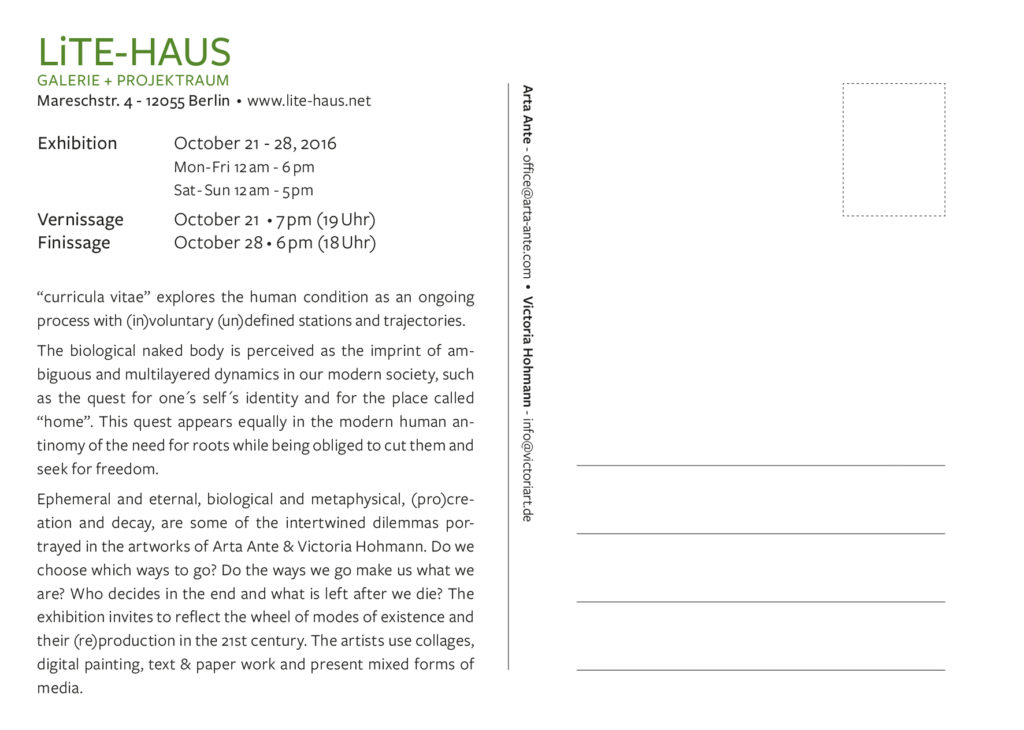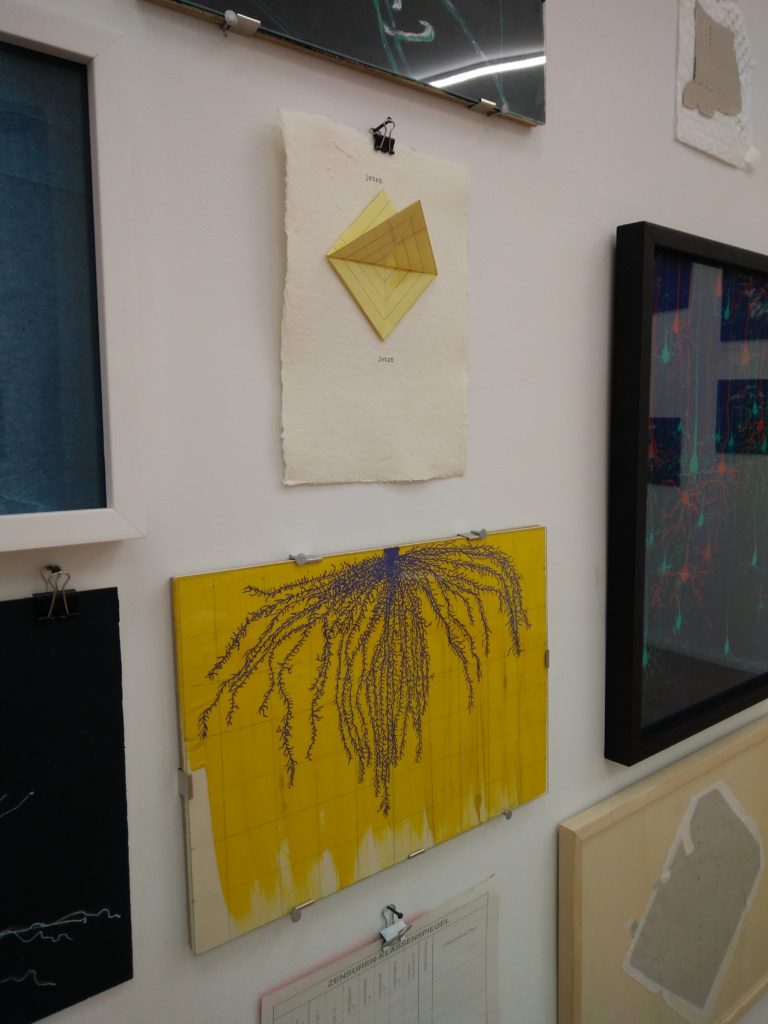 MIND THE GAP, November 2012, Freies Museum, Berlin (Solo)